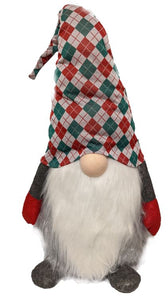 Description:
Bring home the most welcome holiday guest, Santa's Lazy Gnome.
Adorable and easy to maintain. No hide & seek or silly games to keep this Santa helper around.
Santa sent The Lazy Gnome to help with the Naughty/Nice list. These mysterious friends report to Santa if you're naughty or nice, even when you're out of sight.
Specifications:
This includes a single Large Red & Green Gnome & bendable hat.
Gnome measures: 8 inches wide, 32 inches tall and 38 inches with hat fully extended, 9 inches deep